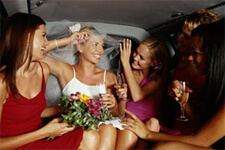 One of the more exciting moments in a woman and man's life, is having a wedding. This event is also a big event for the families involved and the close friends that will be celebrating together with the bride and groom to be. There is, however, a lot that goes into planning a wedding in Toronto, for example. A Toronto wedding has many services that are required of it and with so many different wedding vendors that offer wedding services that it can be hard to find the right service provider for a particular wedding service.

Regarding wedding limos, let Platinum Party Bus Limos assist you by offering party bus limousine rentals in Toronto for your wedding in Toronto. We offer dedicated party bus and large limo bus limo fleet that you can choose from a luxurious limo bus that will be great for your wedding limo. Perfect for those planning on having a large wedding party and having family along with the wedding party, so the room of a party bus is ideal.

The amount of passengers that a party bus limo can hold ranges from 18 – 26 passengers. For larger limo buses, our buses can seat from 30 – 50 passengers. Whatever you decide to choose from your wedding limo, let us assist you by answering your call or email and helping you book a party bus limo in Toronto that is right for you.